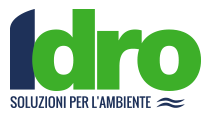 Consorzio Idro
Idrodepurazione s.r.l., today Consorzio Idro srl, is specialized in water and waste water treatment, air purification, solid waste treatment and in energy generation from renewable sources.
Idrodepurazione s.r.l. Idrodepurazione s.r.l. is particularly interested in advancing research in eco-sustainable technologies for air, water and waste treatment focusing on recovering treated elements so as to increase available quantities of that element or resource. The company's objective is to combine respect for the environment with the development of new and increasingly advanced systems that can reduce the costs of such treatments.

Idrodepurazione s.r.l. has experience in the construction and management of facilities around Italy and abroad, responding to different client needs and supporting international humanitarian efforts.

The company is organized in three distinctive operational divisions:

IDRODEPURAZIONE

for the purification of industrial and civil waste water through prefabricated units and the recovery and reuse of rainwater and of grey water;
IDROENGINEERING

specializing in the design and construction of turnkey treatment plants for the purification of civil and industrial waste water, the production of biogas, for the deodorization of air and for the treatment of solid organic waste;
LAMBRO

for primary water treatment and drinking water production projects and for industrial water purification, offering services to the public and private sectors and to end users.
SHUNT

Idrodepurazione has bought the SHUNT waters, which has thirty years experience in the field of water treatment. SHUNT DIVISION WATER specializes in the design and construction of prefabricated systems for the treatment of first rain waters, separators of oils and fats and lift stations. | SHUNT website
---
go to the website